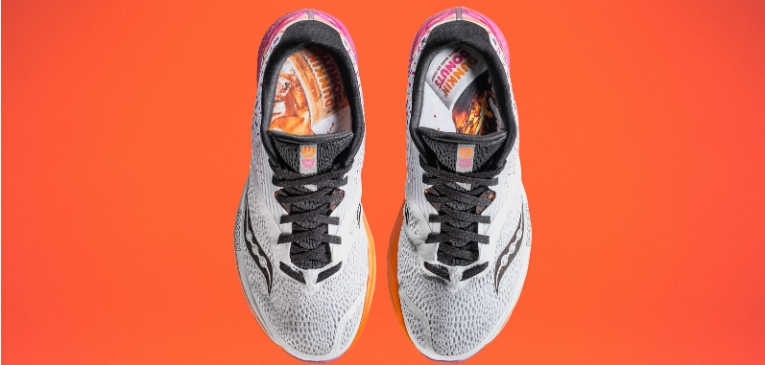 Saucony e Dunkin' Donuts lançam tênis especial para a Maratona de Boston
Quando a Maratona de Boston se aproxima, várias marcas de tênis costumam lançar modelos especiais em comemoração. No ano passado, Nike, New Balance e Brooks foram algumas delas; pensando em 2018, a Adidas já anunciou seu modelo azul e amarelo, as cores tradicionais da cidade. Para celebrar a Major, a Saucony e Dunkin' Donuts, duas marcas fundadas em Boston, fugiram do simples e criaram um Kinvara 9 com a temática das famosas rosquinhas.
Nos últimos dias, as redes sociais da Saucony estavam cheias de referências aos doces, até que a grande revelação finalmente foi feita:
We donut think you're ready for this jelly. Meet the Saucony x Dunkin' Kinvara 9 🍩

Check out our stories for a closer look at the sweetest kicks you never knew you needed. Preorder today at https://t.co/abknGvnezd.#WelcomeToBoston #RunYourWorld @DunkinBoston pic.twitter.com/HDSYgxdzYo

— Saucony (@saucony) March 27, 2018
Na palmilha, é possível encontrar fotos dos cafés vendidos pela rede Dunkin' Donuts. A sola é personalizada com um degradê entre os característicos rosa e laranja da marca, a língua possui as iniciais "DD" bordadas, e no calcanhar, granulados coloridos dão um toque ainda mais especial.
O sucesso da parceria foi imediato: a pré-venda do calçado esgotou em menos de 48 horas, mas ainda será possível adquirir o tênis nas lojas a partir do dia 3 de Abril.
O Kinvara 9 é o carro chefe da Saucony para 2018, apresentando uma malha de cabedal mais flexível para reduzir o atrito com os pés. O solado foi redesenhado e agora possui menos borracha de carbono, ficando mais macio em comparação às edições anteriores. Confira a ficha técnica:
Kinvara 9:
Categoria: Performance
Pisada: Neutra
Peso: 215gr (40 masc / 193gr (38 fem)
Drop: 4mm (23mm calcanhar / 19mm frente)
Finalidade: Treinos diários, de velocidade e corridas de curtas e longas distâncias.
Preço: U$100,00